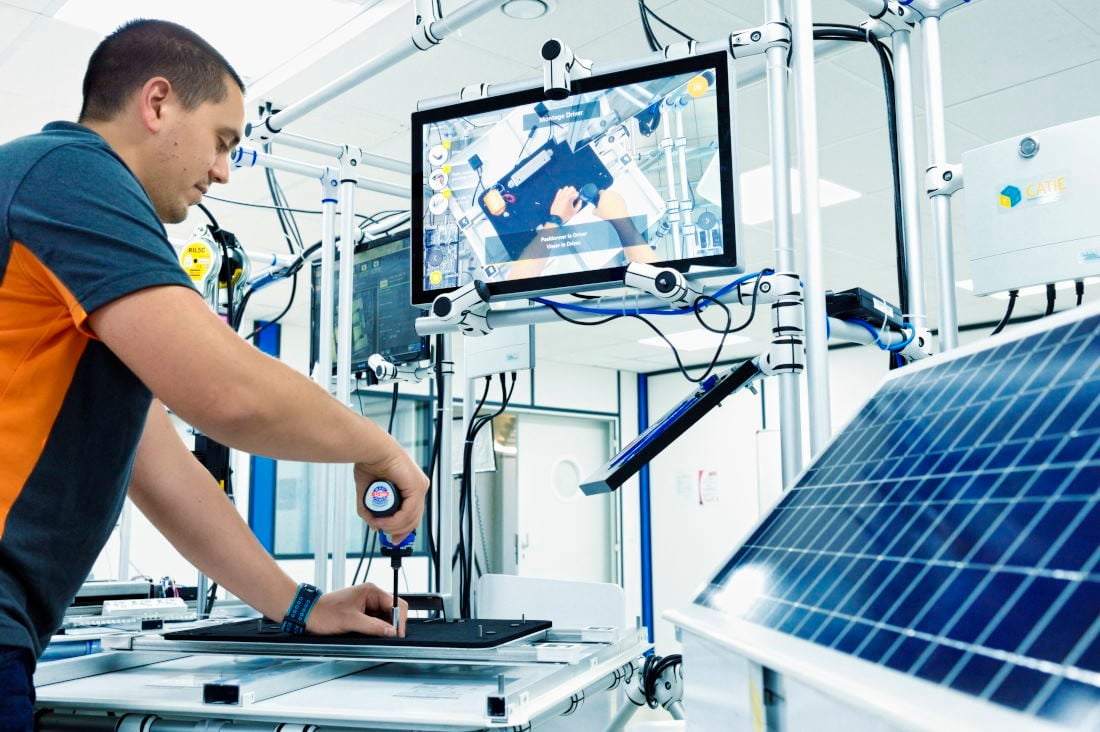 Sustainable development has long been a focus of concern for Sunna Design. The innovation that the company has shown since its very beginnings in the field of solar street lighting notably aims at participating in the construction of the city of tomorrow: more efficient, cleaner, less energy-consuming, and just as effective or even more. With a strong focus on R&D, and through state-of-the-art engineering, Sunna Design rises to the challenges of its time and anticipates the needs of the cities of the future with its autonomous street lights and its smart renewable energy platform.
Design: an essential step in the development of smart solar lighting
Technological innovation at the service of the energy efficiency of cities has always been part of the DNA of Sunna Design. At the origin of its solar solutions is a reflection on the optimization of lighting and street lights themselves.
With more than 20 million euros invested in R&D, Sunna Design is able to offer eco-responsible lighting, both in its operation and in the design of its equipment. Thanks to their patented electronic card, its autonomous street lamps are capable of regulating light intensity, allowing energy savings and storage for later use. The SunnaCore© electronic card has been designed to preserve the battery over charge and discharge cycles thanks to a patented algorithm.
It is that quality of design that allows the company to guarantee reliable solar street lights to its clients. Sunna Design's engineering has enabled to develop a dynamic energy handling, with a cutting-edge thermal management that gives users full control of the street lamps' operating temperature, all for optimized and sustainable public lighting.
Production: a 4.0 factory for state-of-the-art solar street lighting
Sunna Design develops and produces its solar solutions in its own factory based locally near Bordeaux. Labelled "Factory 4.0", this factory of the future has a production capacity of 100.000 products per year, all with a footprint reduced by 80% and a production line designed to improve working conditions.
Thanks to its command of digital tools, Sunna Design has developed a connected factory that allows optimizing its activity and production costs, to continue to produce its solar solutions locally. Several screens facilitate the work of operators, including an augmented reality system to self-train quickly from the workstation.
Smart solar lighting go hand in hand with quality and efficient industrial production. The parts used are subject to very strict industrial standards in pre-production. The assembly line of Sunna Design's solar solutions offers great flexibility to adapt to all products and their specific lighting characteristics. In post-production, demanding tests are carried out to ensure proper functioning and best lifespan of the equipment.
Sunna Design's solar street lights are produced in order to be recyclable by disassembly. Being able to remove and reuse each component without energy-consuming intervention is another action of the company in favor of power management and sustainable development.
Expertise: personalized support for each lighting project
The engineering of Sunna Design has been proven on all the phases of a street lighting project. From the first meeting on, the technical and commercial teams analyze the clients' needs to offer them a lighting solution adapted to their request and optimized in terms of energy costs.
This study phase includes an analysis of the location and environment of the street lights for an accurate calculation of the solar energy production potential. The effectiveness of the lighting service and the probability of a break in service continuity will also be calculated, in order to set up the best solutions for a reliable and sustainable public lighting system.
The expertise of Sunna Design's technicians enables them to propose a lighting design in compliance with the specific needs of the different public spaces of a city. The selection of the lighting profile will therefore be personalized for each solar street lighting project.
After-sales service: a specific technology for long-term trouble-free use
Sunna Design has developed its own digital remote management tools for its solar solutions, in order to provide its customers with a simple and precise use of public lighting as well as a capacity for analyzing and resolving incidences in case of any malfunction. The client can manage his solar lighting system autonomously thanks to the Sunnapp©, an application that includes access to lighting profiles management, to the history and real-time monitoring of performance, as well as to the monitoring of the operation status of the street lights.
Client support, including after installation of the products, is a fundamental principle at Sunna Design, and that is why the company itself ensures after-sales service for all components of its street lamps. In the event of failure, teams trained and entitled to act on these solar solutions provide full technical support. Agents will also be able to go directly on site to make repairs.
Know-how: a partner company in the energy transition of cities
Renovating a city's public lighting system means thinking about the future of its citizens and engaging its municipality in a virtuous dynamic of budgetary savings and active participation in the preservation of the environment. A leader in solar street lighting, Sunna Design has expertise and concrete and successful experience in supporting cities in their energy transition.
Its solar solutions are infinitely configurable to adapt precisely to populations' needs while avoiding light pollution and unnecessary energy costs. The street lamps installation does not require any heavy work thus no disturbance to the daily life of the inhabitants, and their operation quickly translates into financial savings while meeting the widely expressed desire of the population for cleaner and more responsible cities.
Improvement of today's cities street lighting, energy optimization for the city of tomorrow: here are Sunna Design's objectives, which takes its part in the design of the future smart city, thanks to its expertise in solar energy storage and its digital know-how. Its smart lighting system contributes to building the city of tomorrow, even more efficient and in line with sustainable development.