A sustainable lighting system must be thought up to its recyclability. Autonomous and self-sufficient, solar streetlights use clean, natural and renewable energy. But what happens when comes the time to replace them?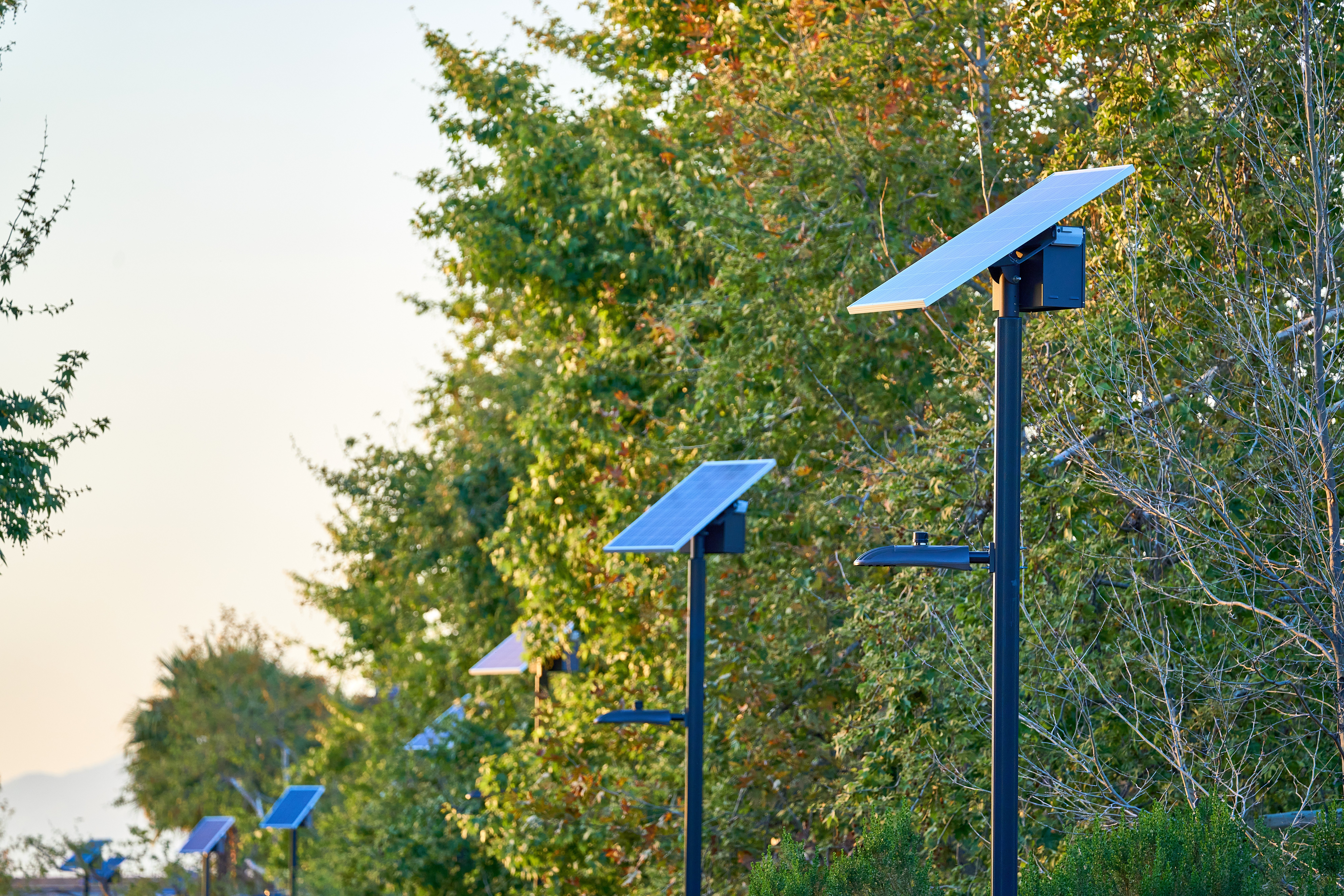 Sunna Design meets the challenge of recycling solar solutions by producing streetlights with an unequalled lifespan on one hand, and facilitating recycling by dismantling of their components, which are designed to be removed and reused without energy-consuming intervention, on the other hand. Working directly with recycling players, the company ensures that all the components of its streetlamps are recycled, including packaging and scraps. In this article, an overview of the recycling of the main components of solar streetlights.
Photovoltaic solar panels: almost perfect recycling
The solar panel is a very long-lasting equipment. After 25 years of use, it continues to produce at least 80% of its initial power. In addition, current recycling techniques make it possible to recover solar panels by an average of 96%.
In terms of weight, a photovoltaic panel is composed of 70% glass, 10% plastic, 8% aluminum and 5% silicon. We know how to recycle glass and aluminum perfectly, which can be used over and over again. Plastics are also easily reused. As for silicon, promising studies are underway to enable it to be reused to manufacture new photovoltaic cells.
European Directive 2002/96/EC requires manufacturers of electronic and electrical equipment to take responsibility for the recycling of their end-of-life products. Photovoltaic panels were included in 2012 in the list of equipment concerned. France is a good student in the recycling of solar panels. In 2019 for example, the country has recycled more than 5000 tons of panels, or around 280.000 photovoltaic panels. Sunna Design collaborates with the eco-organization Soren (formerly PV Cycle) for the collection and processing of its photovoltaic panels in France.
The challenge of the solar streetlights' battery
Sunna Design solar solutions have an unequalled lifespan. This is notably the case of the battery in charge of storing the solar energy produced during the day to restore it in lighting at night. Resistant to even the most extreme temperatures (from -40°C to +70°C), the battery used by Sunna Design is supported by patented algorithms to maximize its lifespan. As for recycling and in order for its equipment to be perfectly taken care of, Sunna Design trusts SNAM in France, a company specialized in the collection and recycling of batteries.
The NiMH technology of Sunna Design's batteries allows excellent recyclability. At the end of its use, the metals are extracted from the battery and recovered up to 98%. The thermal process of pyrometallurgy is used to recycle NiMH. The metals are recovered by gravity, such as nickel that can be extracted and later used to manufacture new materials like stainless steel. By choosing NiMH batteries (Nickel Hydride Metals), Sunna Design once again opts for the best solution in terms of upgrading the components of its solar streetlights.
Electronic card: composition and recycling
All Sunna Design streetlamps are equipped with patented electronics unique on the market allowing a precise and intelligent management of solar energy, and therefore an optimization of lighting as well as of the equipment. The electronic card regulates the light intensity of the LED module and thus saves and stores energy.
About 30 metals are used in the composition of the electronic cards, among them precious and critical metals. Precious metals are 100% recyclable. The current state of knowledge does not yet allow the recycling of critical metals, but R&D is underway.
Reconversion of the LED lantern
LED technology is part of the operation of solar streetlamps, in combination with solar energy, photovoltaic panels and battery. Light-emitting diodes appeared in the years 2000 and now represent around 15% of the public lighting system in France.
The lanterns or LED modules used by Sunna Design offers excellent light efficiency along with a very good lifespan (up to 20 years). Beyond its optimized use time, its design allows it to display a 95% recyclability rate. Regarding the lanterns, the aluminum that makes up its envelope and heat sink is 100% recyclable, the electronic elements such as diodes, transformers and semiconductors are also easily recycled, and the polycarbonate lens can be reused in the manufacture of other objects.
For Sunna Design, solar lighting has to be as efficient as sustainable. Committed from day one to provide end-to-end eco-friendly solutions, the company has established an international recycling network and works directly with its players to ensure best practices around its solutions.