When it comes to solar lighting, distinguishing truth from falsehood can sometimes be tricky. Popular misconceptions about solar street light lead some to believe these solutions are either too costly, not suitable for all climates, irrelevant in places that have access to the grid, not reliable enough, or worse, that they are an eyesore.
But fear not as we're here to help! Here we take a look at – and debunk – some of the most common myths and falsehoods about solar lighting.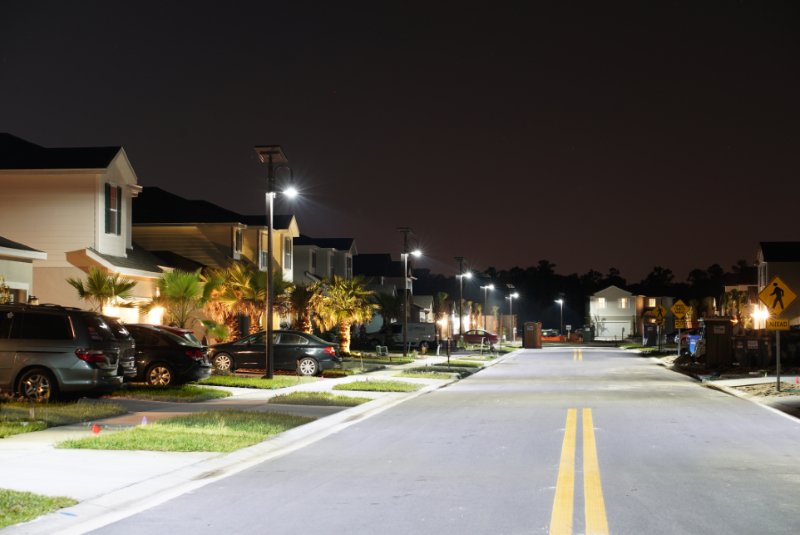 Myth #1: « The costs of solar lighting are too high »
Wrong! In many cases, solar lighting is a cost-efficient alternative to traditional solutions. First of all, the initial investment in solar street slights is now much more affordable thanks to the decrease in manufacturing costs of solar energy components and equipment over the last twenty years.
And solar technology remains cost-effective over the product's entire lifespan: from a cost-efficient installation that requires no heavy work to the absence of electricity bills and the limited operational and maintenance costs...
Beyond the financial case for solar lighting solutions, switching to solar is a way to tackle today's energy challenges, with benefits for the environment and society.
Myth #2: « Solar lighting is not suited to all regions »
Wrong! Contrary to popular belief, the use of solar lighting is not limited to specific geographic locations or climates. Solar lighting solutions come in a variety of ranges designed to cover the specific needs of any region, regardless of its level of solar irradiance or climatic conditions.
The key features of a resilient and high-performance product include: a battery capable of withstanding a wide range of temperatures, an efficient cooling system to prevent the battery and electronic components from overheating, and photovoltaic panels with self-cleaning hydrophobic coating.
In addition to offering equipment that is resistant to extreme temperatures, dust or corrosion, solar lighting providers need to ensure they can deliver uninterrupted lighting service all year round. Sunna Design's patented technology ensures optimal energy management, meaning street lights provide reliable lighting 365 nights a year throughout the world, in temperatures ranging from -40°C to 70°C.
Myth #3: « Solar lighting is only relevant in off-grid locations »
Wrong! It is true that solar street lights, given their total autonomy from the electrical grid, are an ideal solution for off-grid regions or areas where the infrastructure is subject to failures and outages. But that's not the only case.
In Europe, in the US and elsewhere, more and more players are choosing solar-powered lighting for city environments, residential areas or even cultural landmarks. And there are many reasons for this. It sometimes is a case of improving public lighting reliability, relieving the power grid, reducing costs, promoting sustainability, or powering Smart City applications – and sometimes it's a combination of all this.
Myth #4: « Solar lighting is less reliable than traditional lighting »
Wrong! Within a solar street light installed base, each unit operates individually, meaning that should an outage or a failure occur, it would only affect a specific unit as opposed to the entire base. This is a clear advantage compared to a traditional installation where all units are interconnected and where a power outage can leave an entire neighbourhood in the dark.
And that's not all. Sunna Design's street lights are fitted with a smart electronic board which uses patented algorithms to ensure optimal energy management. Thanks to this system, we provide the highest level of service throughout the year. Whatever the weather conditions, you'll enjoy a high-performance always-on service, even during extended intervals of low solar irradiance.
Myth #5: « Solar street lights are an eyesore »
Wrong! Far from contributing to visual pollution, modern solar street lights offer a sleek design that can blend seamlessly into any environment. Thanks to their compact all-in-one design, Sunna Design's street lights don't add to visual clutter, guaranteeing the harmonious integration of our products at their installation site.
This is achieved through the optimal dimensioning of the solar panels used in our products. Sunna Design's street lights aesthetics and uncluttered design is perfectly suited to any area or location, including places that boast an elegant and refined architecture and protected cultural sites.