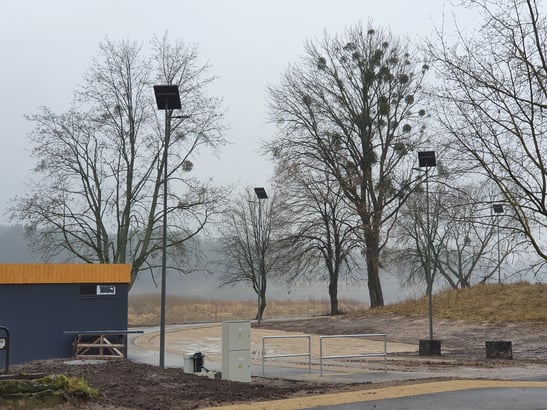 A genuine challenge for sustainability
« Draugystès » means « friendship ».
This urban park in Kaunas is a favourite place for the city's residents and families, who enjoy the children's playgrounds, sports facilities and varied vegetation.
Popular at weekends and in the summertime, access to the park gets more limited when the autumn comes and when sunlight can drop to an hour a day in the depths of winter.
The existing lighting solutions had reached its limits: it was too old and was not functioning optimally.
The challenge of a new lighting solutions was therefore threefold: to have a positive ecological footprint, to ensure an efficient and financially advantageous system, and to preserve the well-being of the inhabitants by allowing them to enjoy their park all year round, in complete safety.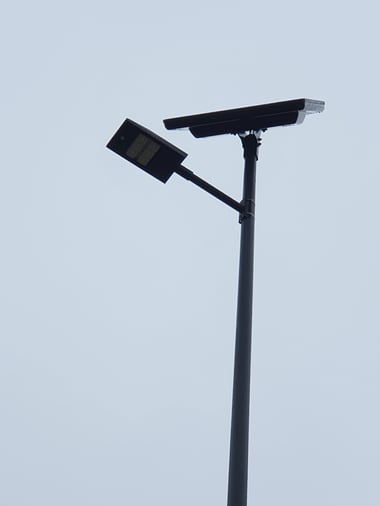 Performance and design of the solar lightings
The company Šviesos technologijos (meaning "Light technologies") commissioned for this project was looking for a solution capable of meeting those three key challenges, as well as the strong constraints of very low sunshine in winter.
They made their choice in favour of Sunna Design, regarding the quality of the Up2 lighting system.
The solar lights were installed on the park's pathways, blending in with the silhouettes of the trees thanks to their elegant and discrete design, their black color echoing the brown of the trees.
They are perfectly suited to the challenges of lighting a park in northern latitudes: they are designed to capture the maximum amount of light in temperate zones, thanks in particular to the tiltable panels (up to 50%) and the No Blackout technology, which guarantees operation 365 days a year.
As Kaunas' temperatures are regularly negative in winter, the resistance and performance of the battery, capable of withstanding severe weather conditions such as snow or frost, is also a strong asset.
The people of Kaunas appreciate being able to share moments with their loved ones and enjoy their park all year round, which is now fully living up to its name "friendship".